Advanced Materials -Chemistry for Cultural Heritage – Green Chemistry
Photoactive nanomaterials, UV light, Solar light, Water remediation, Air remediation, Self-cleaning coating, Water and surface disinfection, Cultural heritage protection
The research activities carried out in this laboratory are mainly devoted to:
– Design and synthesis of UV or Vis-light active inorganic nano-catalysts:
TiO2-based nanomaterials
Plasmonic nanoparticles
Multifuncional heterostructures
– Investigation of photocatalytic properties of (nano)materials:
Set up of experimental protocols to investigate and compare the photocatalytic activity of new (nano)materials,
Test of the UV induced photocatalytic activity in water of powdery (nano)catalysts according to ISO standards
Test of the UV or Solar light induced photocatalytic activity in water of (nano)catalyst immobilized onto different surfaces
Target molecules in water: dyes, pesticides, pharmaceuticals
Test of photocatalytic activity at solid/gas interface: NOx removal
Test of the antimicrobial activity of photoactive nanomaterials
– Immobilization of nanoparticles on unconventional substrates
Preparation of formulations containing TiO2 NPs for deposition by casting, dip-coating, spray coating, impregnation, etc.
Engineering NP surface chemistry and formulation composition according to chemical composition and geometry of the substrates (fabric, paper, stone, concrete, steel, glass, alumina fiber, etc)
TiO2 NPs can be immobilized on buildings materials or embedded in concrete to produce photocatalytic cements
Possibility to infer hydrophobic and/or self-cleaning coating. Preventing surfaces from water absorption. Aesthetic of the material is not affected by the coating
Integration of nanocatalysts in photocatalytic devices.
LIST OF AVAILABLE INSTRUMENTATION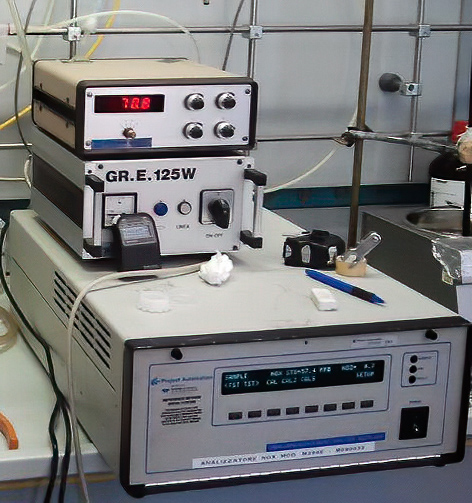 Chemiluminescence NO/NO2/NOx analyzer in ambient air with the following characteristics:
– Certification of conformity to EN 14211:2012
– Certification of conformity to EN 15267:2009 – Part 1 and Part 2
– User selectable measuring ranges for each full scale from 50 ppb to 20 ppm
– Independent measuring ranges for programmable NO, NO2, NOx and auto-ranging
– Limit of detection: 0,4 ppb
– Zero drift: <0,5 ppb/24 hours
– Span drift: <0.5% of full scale/24 hours
– Linearity: 1% of full scale
– Optimisation of response time through adaptive signal filtering